Mason Clinic - Primary Care
Mason Clinic Primary Care provides family practice services, with providers who specialize in children, adults, geriatric population, women's health and more.

To book an appointment, call us at 1-360-426-2653
Thank you for choosing Mason Health
Arriving on time for your scheduled appointment is important in addressing your health care needs. Please notify Mason Health as soon as you know you will need to change or cancel your appointment. You are required to cancel your appointment at least one business day prior to your scheduled appointment because of high patient demands. Your ability to schedule future appointments will change because of missed appointments or cancellations.
If you have questions about our No-Show and Cancellation policy, please call the clinic or download a copy of the No-Show and Cancellation Policy as indicated below. Please bring your ID and copy of your insurance card to your appointment.
Need additional resources?
Call Mason Health's Community Health Worker, who can help with other services and support: 360-432-3296.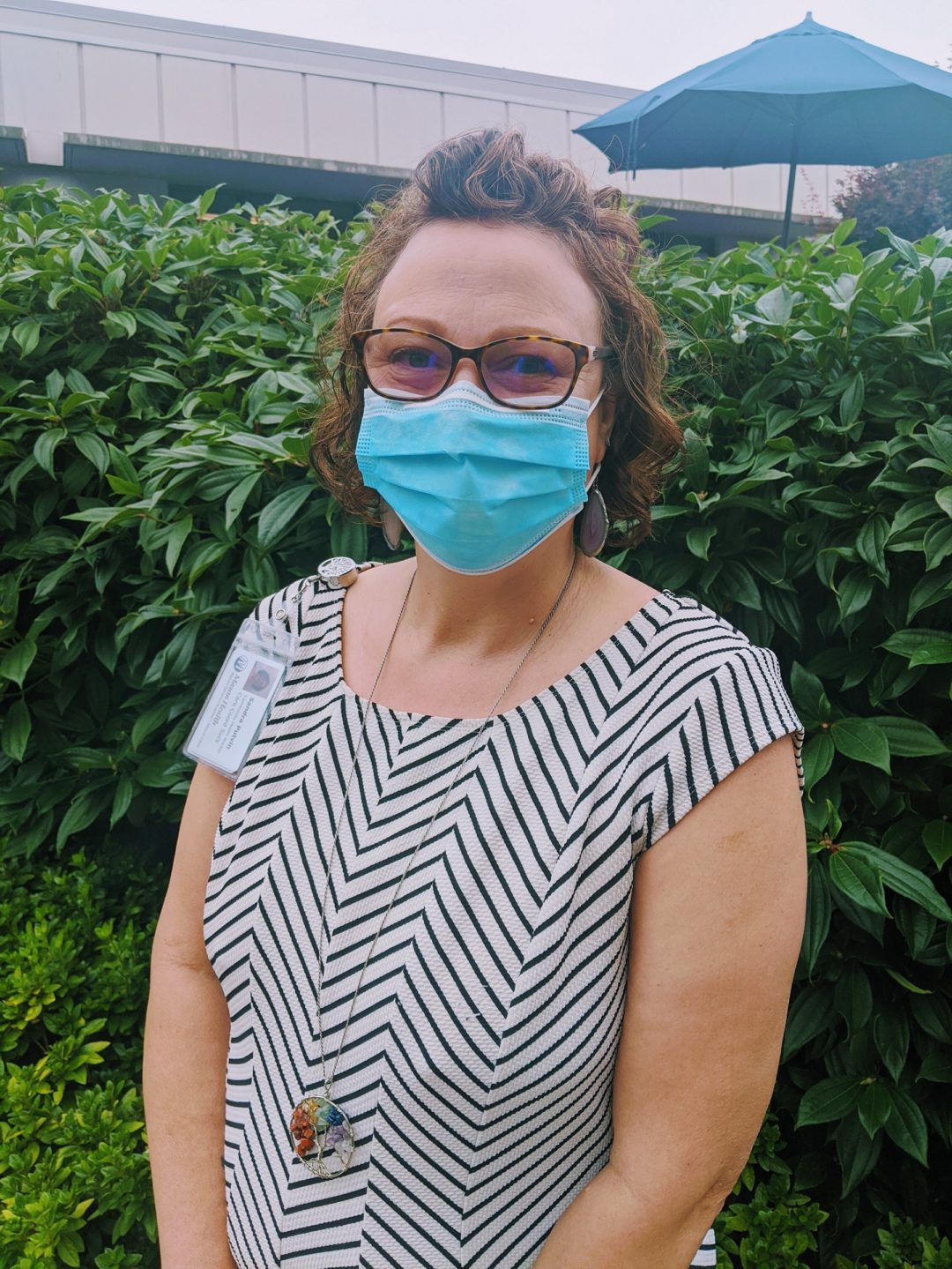 Sandra Putvin, Community Health Worker
Clinic Providers
Alyssa Abegg-Garcia, ARNP
Alyssa received her Masters of Nursing Degree from Seattle University, Seattle, Washington in August of 2017. She is also certified with the American Academy of Nurse Practitioners in Family Medicine.
Katie Aldrich, PMHNP-BC
Katie Aldrich, PMHNP-BC, earned her Masters of Science in Nursing, in the Psychiatric Mental Health Nurse Practitioner Program, from Gonzaga University in 2019. Aldrich enjoys caring for individuals across the lifespan and believes in working with her patients to assist individuals to attain their highest level of whole body health: mind, body, and spirit.

David E. Anderson, MD
Dr. Anderson joined Mason Health full-time in 2019. He is board-certified in internal medicine and has served 20 years in the U.S. military, including tours in Iraq, Korea and Africa. He takes great pride in serving this rural community.
Amber Carlson, DSW, LICSW
Amber Carlson joined the staff at Mason Health in January 2016. Prior to that she had worked as a clinical social worker at a local hospital in Kitsap County since 2010. Carlson was born and raised in Snohomish County, Washington and has always considered the Pacific Northwest home.
In 2021, Carlson obtained her doctorate degree and accepted the role of Director of Behavioral Health Services at Mason Health.
Vanessa Cray, PMHNP-BC
Vanessa Cray, PMHNP-BC, earned her Masters of Science in Nursing, in the Psychiatric Mental Health Nurse Practitioner program, from Gonzaga University in 2019. Cray is drawn to the philosophy of patient-centered care, incorporating the patient's personal ideals and cultural understanding into the focus of their own treatment.

Darren Cuevas, DO
Dr. Darren Cuevas joined Mason Health in September of 2018. He received his D.O. training at Midwestern University in Glendale Arizona and completed his Family Medicine Residency at St. Joseph's Hospital, University of Minnesota in St. Paul. In 2023, Dr. Cuevas won the Leadership in Rural Medicine Health Care Champion Award from the Thurston County Chamber of Commerce and Thurston-Mason Medical Society.
Erica Encarnacion, LMFTA
Erica Encarnacion is Mason Health's new collaborative care therapist, taking referrals from primary care providers for patients that qualify for that program only. She utilizes Narrative, Solution-Focused Brief and Cognitive Behavioral Therapies.
Kathleen Garber, LMHC
Kathleen Garber joined Mason Health in July 2023. She has a special interest in working with children on a variety of childhood concerns, as well as with children who are neurodivergent or have post-traumatic stress disorder. She utilizes cognitive behavioral, play and EMDR therapies.
Kirsten Garza, PMHNP-BC
Kirsten Garza, PMHNP-BC, earned her Masters of Science in Nursing, in the Psychiatric Mental Health Nurse Practitioner program, from Jacksonville University in 2019. She is accepting patients now. Utilizing therapy, nutritional changes and psychopharmacology she works with her patients to create a collaborative plan of care they are comfortable with to reach mutual goals.
KC Graham, PA-C
KC Graham, PA-C, is a certified physician assistant who obtained his Master's degree in Physician Assistant Studies (M.P.A.S.) from Idaho State University in 2014.
Katie Hackney, PA-C
Katie received her Master of Medical Science degree from Barry University Physician Assistant Program in 2003. She enjoyed practicing medicine in Shelton before taking time off to start a family and is excited to return to patient care.
Rebecca K. Hendryx, M.D.
Dr. Hendryx enjoys working with individuals and families to promote optimal health and well being throughout all stages of life.
Henry In, DO
Dr. In joined Mason Clinic in July 2020 and is accepting new patients. Dr. In obtained his medical degree at Touro College of Osteopathic Medicine in New York City. He is interested in a broad spectrum of medicine with a focus on continuity of care, servicing both inpatient and outpatient settings. His emphasis is on prevention and education as a goal to reach a healthy state of mind, body, and spirit.

D'Arcy M. Kaaua, ARNP
D'Arcy Kaaua, ARNP, has a special interest in adult chronic diseases, palliative care, postmenopausal women's health and collaborative health care and education.
Jennifer Kummerfeldt, ARNP
Jennifer has interests in family practice/primary care including acute care, chronic disease management, and mental health with emphasis on prevention and patient education.
Mat Kummerfeldt, PA-C
Mat Kummerfeldt is a Primary Care provider who joined Mason Health in 2023. He believes that the role of the Primary Care provider is to educate patients about maintaining good health, provide timely access to healthcare, identify illness early and intervene quickly and appropriately to provide the best outcome possible.
Trevor Kwan, DO
Dr. Trevor Kwan joined Mason Clinic in July 2020. He completed his medical training at Michigan State University College of Osteopathic Medicine in East Lansing, Mich. in 2017. Dr. Kwan enjoys practicing multidisciplinary team medicine that is evidence-based and patient-centered. He also believes osteopathic manipulation is a valuable tool and adjunct to treatment plans.
Andrew Kwon, MD
Andrew Kwon, MD, officially joined the District in July 2018. Dr. Kwon received his medical degree from the University of Korea, College of Medicine in 1991, and completed his internship and residency in 1997 at Mid-Hudson Valley Family Practice Residency in New York, NY. He is board certified under the American Board of Family Medicine.
Erin Martinache, LICSW
Erin K. Martinache joined Mason Health in November of 2015. Prior to that, she worked as a Mental Health Therapist, offering individual and group therapy to adults at a local community mental health clinic, since June of 2006.
Benjamin May, DO
Dr. Benjamin May joined Mason Clinic in July 2020 and is accepting new patients. He graduated from Pacific Northwest University College of Osteopathic Medicine in Yakima, Wash. in 2017. Dr. May trained specifically in a rural medicine residency because he wanted to be able to understand and best serve communities in rural areas. He is fluent in Spanish.

Allen L. Millard, MD
Dr. Millard has a special interest in diabetes and the care of children. He enjoys living in and being a part of the Shelton community and coaching youth soccer.
Jennifer A Nelson, ARNP
Jennifer Nelson, A.R.N.P., is a board-certified family nurse practitioner licensed by the state of Washington, and also board-certified with the American Association of Nurse Practitioners (AANP).
Christy Ross, MSW, LICSW
Christy Ross joined Mason Health's Behavioral Health team in October 2021. Ross obtained her license as an Independent Clinical Social Worker in April 2018. She believes that "meeting people where they are" begins the therapeutic relationship in a nonjudgmental holistic approach.
Ladd Rutherford, PA-C
With more than 20 years of experience in the science and medical field, Rutherford has a special interest in infectious disease, asthma and allergies.
Mark L. Schlauderaff, M.D.
Dr. Schlauderaff has a special interest in diabetes and teaches classes through the diabetes education program at Mason General Hospital. He has been honored as Washington State Rural Physician of the Year.
Resa L Shaner, PA-C
Resa Shaner completed her Physician Assistant Studies at Midwestern University, Downer's Grove, IL. She is a board-certified Physician's Assistant in Family Medicine.
Catherine Shutty, DNP, ARNP
Catherine Shutty is a board-certified Family Nurse Practitioner. She graduated from Washington State University with a Doctorate in Nursing Practice and is passionate about improving health within rural communities. Shutty is married, loves to garden, and enjoy the outdoors with her dog.
David P. Soha, DO
Dr. Soha is family practice-oriented with clinical interests in hands-on manipulation for musculoskeletal conditions and addiction management.
James Stauffer, PA-C
James Stauffer received his Master's degree in Physician Assistant studies from Idaho State University, Pocatello, ID in August 2015. He is board certified with the National Commission on Certification of Physician Assistants (NCCPA).
Martha Svoboda, LMHC
Martha Svoboda joined Mason Health in September 2021. She has experience providing mental health services to adults and adolescents in the forensic and rural community health setting. Svoboda utilizes a Cognitive Behavioral Therapy (CBT) and Motivational Interviewing (MI) approach while working with individuals and has experience treating individuals with co-occurring substance use disorders.
Christina Wellman, LMHC
Christina Wellman is a Licensed Mental Health Counselor and a child mental health specialist. She aims to be a culturally humble practitioner in working with folks with
marginalized identities: rural, working class, immigrant, BIPOC and LGBTQ, to name a few.
Jimmy Wesson, M.D.
Jimmy Ray Wesson, Jr., M.D., joined the medical staff at MGH Olympic Physicians as an internist in August 2017. He received his medical degree from Cebu Doctors' University, College of Medicine, in 2008 and completed his internship and residency in internal medicine at Columbia University/Harlem Hospital Center in 2017.
Frequently Asked Questions
Who Should Get a Flu Shot?
>
Patient Forms & Information