Mason Clinic - Hoodsport Primary Care
Hoodsport Primary Care provides a strong support system while maintaining the goals of patient-centered and community.
Hoodsport Primary Care
hours
Mon - Fri: 8:00 am - 5:00 pm
Closed for lunch (12:00 noon - 1:00 pm)
Closed Sat-Sun and all major holidays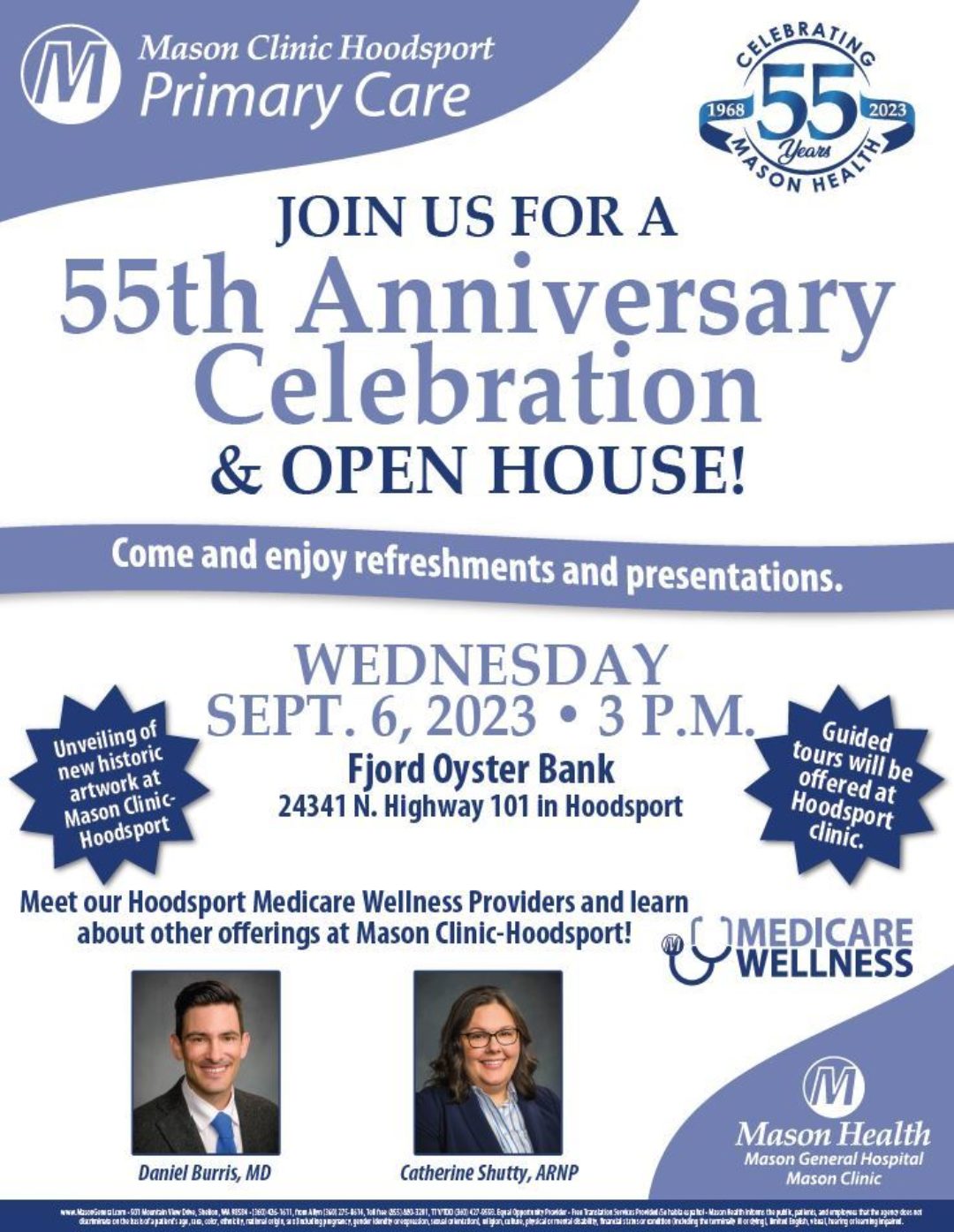 Join us at the Fjord Oyster Bank in Hoodsport for a celebration of the artwork at Hoodsport clinic! Meet the providers, learn about Medicare Wellness and more! Please RSVP by calling 360-426-3623 or emailing foundation@masongeneral.com.
Mason Clinic - Hoodsport Primary Care is a Mason Health clinic with a strong support system that fulfills the mission of United Community and vision of patient-centered care. In addition to having electronic medical records and business support, HPC receives patient care support through consultation with specialists and Emergency Department physicians at Mason General Hospital. The HPC patient base includes Hoodsport, Lilliwaup, Union - and all parts in between.
The clinic also added new services and they include remote access to mental health services. A mental health expert can consult live, onscreen with a mental health patient via a monitor set up in the Clinic.
Arriving on time for your scheduled appointment is important in addressing your healthcare needs. Please notify Mason Health as soon as you know you will need to change or cancel your appointment. You are required to cancel your appointment at least one business day prior to your scheduled appointment because of high patient demands. Your ability to schedule future appointments will change because of missed appointments or cancellations.
If you have questions about our No-Show and Cancellation policy, please call the clinic or download a copy of the No-Show and Cancellation Policy as indicated below. Please bring your ID and copy of your insurance card to your appointment.
Obesity Medicine Certification
Clinic Providers
Daniel J. Burris, MD
Dr. Burris joins Mason Health in September 2018. Graduating from the University of Wyoming Family Medicine Residency program in Casper, Wyoming in 2018, his residency covered full-spectrum medicine, with a particular focus on the skills and knowledge needed to care for a rural community.
Dr. Burris is certified in Obesity Medicine and can help patients achieve their weight loss goals. He is the only provider in Mason County certified in Obesity Medicine.
Catherine Shutty, DNP, ARNP
Catherine Shutty is a board-certified Family Nurse Practitioner. She graduated from Washington State University with a Doctorate in Nursing Practice and is passionate about improving health within rural communities. Shutty is married, loves to garden, and enjoy the outdoors with her dog.
Erin Martinache, LICSW
Erin K. Martinache joined Mason Health in November of 2015. Prior to that, she worked as a Mental Health Therapist, offering individual and group therapy to adults at a local community mental health clinic, since June of 2006.
Patient Forms & Information