Birth Center
Whether or not this is your first baby, we want your experience to be a memorable one! Mason Health's Birth Center offers exemplary care for our expecting mothers.
Mason General Hospital
hours
Visiting Hours: 8:00 am – 8:30 pm
Stay Close to Home
Join the hundreds of other women in this area and have your baby in the private, warm, cozy, and convenient environment of MGH's Birth Center. You'll always feel taken care of with our experienced and licensed nurses. We help to make you feel as comfortable possible while you stay in our Birth Center.
Quiet Hours
Quiet hours ensure that you and your family get some much needed rest after your baby arrives. These hours are 1-3 p.m. everyday, no visitors please. Guidelines may change during periods of viral outbreaks (such as COVID-19).
Appointments
For scheduled appointments, such as ultrasounds, NSTs, lactation, and weight checks, use the Main Entrance between the hours of 6 a.m. and 6 p.m., Monday through Friday. For all other times or unscheduled appointments, use the Emergency Department Entrance.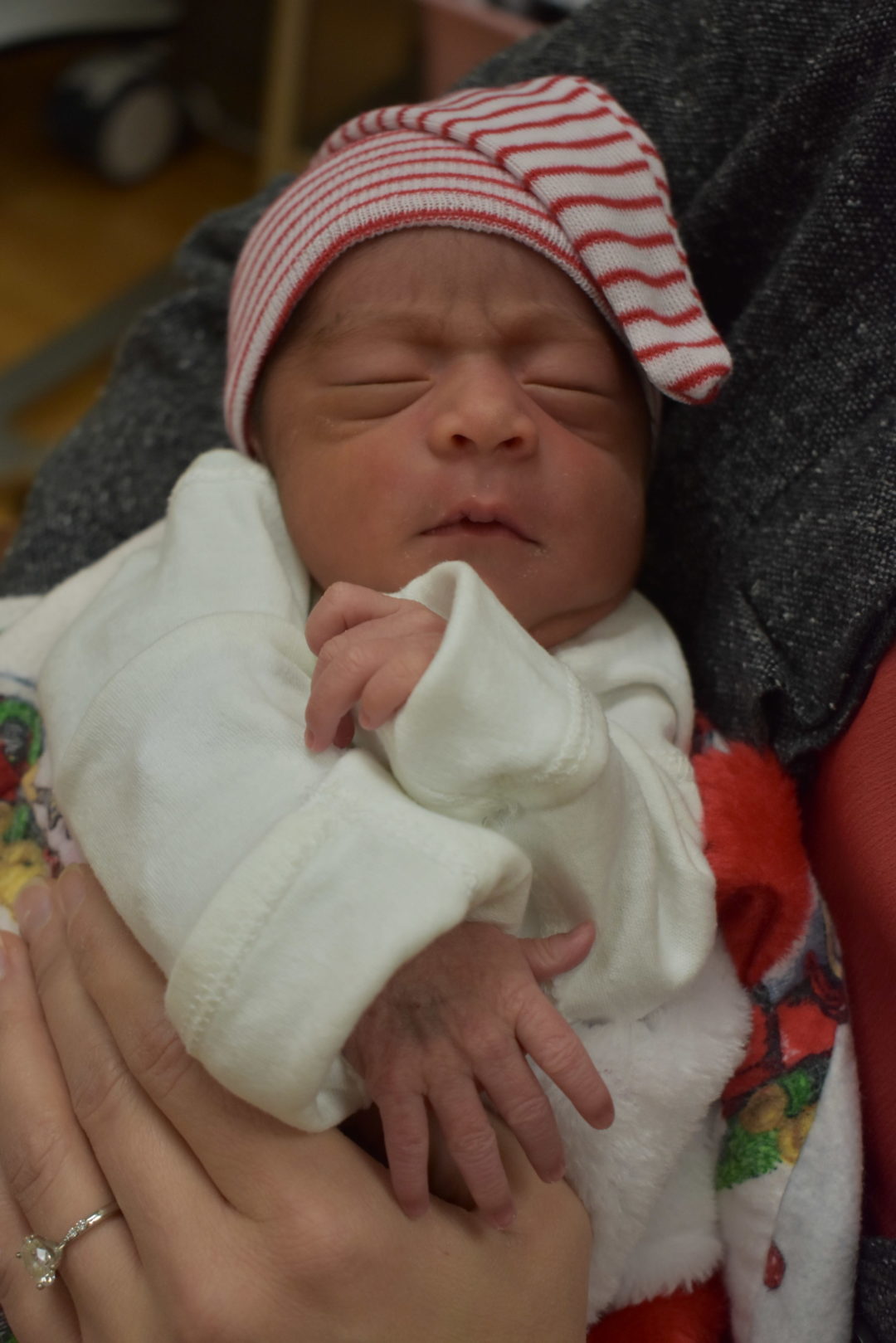 Yuliana Esteban-Bello, born on Nov. 5, 2019, pictured here at two days old in the MGH Birth Center nursery in a provider's arms.
Visitors and Admission
All patients and visitors must enter at the Mason General Hospital main entrance (or the Emergency Department after hours).
All visitors are asked to stop at the Birth Center Nurse's Station before they proceed to the patient's room. Visitors/support people may be asked to leave at any time to ensure the safety of patients and/or staff.
Support people during labor have unlimited visiting hours. One support person may continue to have unlimited visiting hours throughout the hospital stay.
Support people should be limited to two during labor and delivery. Doulas do not count as support people.
If support people leave the unit for a break, travel through the hospital should be limited to and from the exits, vending area, or cafeteria. Travel should be quiet through the patient care areas and may be limited to accommodate staffing and to promote a restful environment. PLEASE limit trips outside the unit to two times per shift.
Only ONE person is allowed in the operating room for cesarean births
Visitors after birth, over the age of 12 (not including siblings) who are in good health are welcome to visit, two at a time, during visiting hours, 10 a.m. to 6 p.m., Monday-Friday, and 10 a.m. to 2 p.m., Saturday and Sunday.

Siblings of the newborn and partner/support person are not counted as visitors.
To ensure privacy and a restful environment, all children must remain in the patient's room and under adult supervision (someone besides the patient) at all times.
Visits should be brief to allow new parents and other patients to rest. Quiet time will be from 1 to 3 p.m. daily to allow patients to rest and prepare for discharge. Visitors and calls will be restricted during this time.
Visitors may be restricted:
At the request of the patient
If the patient is under isolation precautions
If visitor numbers are impacting the privacy, rest, safety, and/or security of other patients.
We are committed to providing protection and privacy for our patients. In order to ensure the security of our newborns, you will notice identification and security procedures in place.
At Mason Health, we want you to have the healthiest and happiest pregnancy, labor and delivery and postpartum experience possible.
Check out our list of Important Documents at the bottom of the page, including prenatal guides, for additional resources and visit our recommended links for more information:
National Maternal Mental Health Hotline
Are you a new parent and feeling sad, worried, overwhelmed, or concerned that you aren't good enough? You aren't alone. You aren't to blame. With help, you can feel better. Call or text, 1-833-9-HELP4MOMS (1-833-943-5746) to connect with counselors at the National Maternal Mental Health Hotline, launched in May 2022. LEARN MORE.

Breastfeeding
For Mam (Guatemalan) speakers:
Safe Sleep Practices
One of the best ways to show love for your baby is to provide a safe place for him or her to sleep. Follow the following ABCs and 1-2-3s.

Alone: Keep your baby's sleep area close but separate from where others sleep. Your baby should not sleep with others in a bed, on a couch, or in a chair.
Back: Your baby should be placed to sleep on his or her back, on a firm mattress, and in a safety-approved crib every time-including during naps and at night.
Crib: Remove all loose bedding, blankets comforters, quilts, sheepskins, stuffed animals, bumpers, wedges, and pillows from your baby's crib.

1. Cause of death: Sudden Infant Death Syndrome (SIDS), Sudden Unexpected Infant Death (SUID) and accidental suffocation are the leading causes of death in babies aged 1 to 12 months.
2. Babies 1 to 4 months of age have the highest risk of SIDS, SUID, and accidental suffocation.
3. Tell Everyone – Share the A, B, C, 1, 2, 3 with at least three people and everyone who cares for your baby.
Additional Tips:

Keep babies away from cigarette smoke and others that smoke or places where people smoke.
Breastfeed often and as long as you can.
Do not let your baby get too hot. If you are comfortable, your baby is comfortable.
Nationwide Children's shares the video below about back sleeping and why babies do not choke when on their back in the correct position:

Follow this link for more important information on how to protect your baby from sleep accidents that often result in death.
Birth Center Manager Answers FAQs
Birth Center Manager Kris Gaa has worked for 18 years in the Birth Center, first as a nurse and now six years as manager. She explains why patients continue to choose Mason Health to deliver in the Frequently Asked Questions below:
Frequently Asked Questions
Why do you feel like people choose MGH to birth their babies?
How do you create a positive experience during a high-stakes, high-stress time?
How else do you support new mothers beyond delivery?
Will we soon see even more births at MGH?
What else can you say about your team?
>