MASON HEALTH KICKS OFF CAMPAIGN FOR SAFER WORKPLACE ENVIRONMENT
Release Date: Aug 28, 2023
This summer, Mason Health joined eight other regional hospital systems to meet a new statewide challenge to create a safer workplace.
The Washington Hospital Services 2023 Top Performer Award encourages participating hospitals to reduce injuries and create a safer work environment by launching safety campaigns for employees. To achieve Top Performer status this year, participating hospitals must roll out and complete a safety campaign that encourages employees to think more about how to be safer in their environments. The campaigns must start Aug. 1 and end by the end of November.
"Workplace safety is important because we want to make sure everyone feels safe coming into work and we want employees to know we're looking out for employees, as well as patients," said Melissa McClaran, Mason Health's Program Manager of Infection Prevention, Employee Health and Safety. "At other hospitals, the emphasis on safety is often with patients, but we want our employees to know this is a safe environment for everybody."
Mason Health's Safety Committee, made up of members from various departments across Mason Health, has been meeting regularly to look at employee safety issues, and this year's campaign will focus on encouraging employees to report safety concerns. Safety issues at Mason Health are reported by employees through a system called SafetyZones. Employees can call in a SafetyZone incident or complete an online form. Employees are encouraged to report any safety concern.
The Safety Committee kicked off this year's safety campaign with a Safety Fair on Aug. 2 at Mason General Hospital for employees. One game involved scenarios that employees might encounter during the day, and discerning whether in that scenario an employee should report a SafetyZone or contact IT.
The Safety Committee will remind employees monthly about the importance of SafetyZones, and will be tracking the number of incidents reported, as well as the type of safety incident, McClaran said.
"SafetyZones are important," she said. "They are the reason we have security guards 24/7 and not just at night and the reason our stop signs now have flashing lights — these changes happened because employees put in a SafetyZone and they were specific about the issues that were happening."
For more information on the Top Performer Award and this year's safety efforts, visit https://www.wsha.org/articles/hospitals-across-the-state-kick-off-safety-campaigns/.
Mason Health, Public Hospital District No. 1 of Mason County, is celebrating 55 years of serving patients and the community this year. Mason Health is ISO 9001 Quality Management System certified by Det Norske Veritas (DNV) and is a licensed and accredited acute care hospital with a level four emergency trauma designation. Mason General Hospital and Mason Clinic are ENERGY STAR® certified and Mason Health is the recipient of three Practice Greenhealth Partner for Change Awards and a Greening the OR Environmental Excellence Award. There are more than 100 physicians on staff in 19 specialties. For more information or to find a health care provider, visit www.masongeneral.com. To learn more about DNV, visit www.dnv.com/healthcare.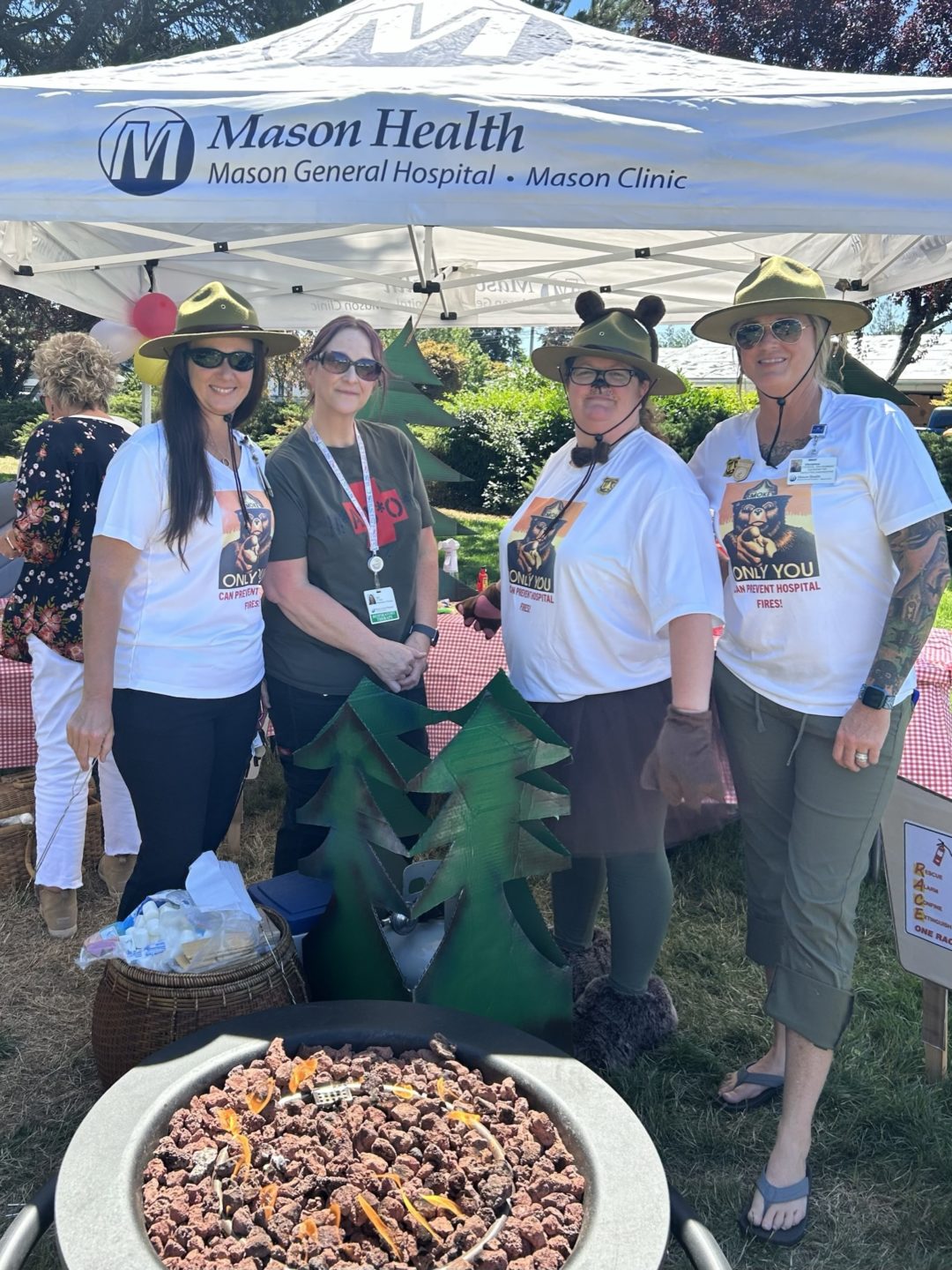 Caption: Mason Health's Safety Fair featured a National Parks theme to encourage safety in all forms. Pictured: Kristy Christopher, Director of Respiratory Therapy; Tari Connell, RT Aide, MA-C; Lisa Stewart, Buyer; and Christine Ellwanger, Physical Environment Coordinator.