MASON HEALTH AWARDS NINE SCHOLARSHIPS TO SHELTON HIGH SCHOOL HEALTH SCIENCES ACADEMY STUDENTS AMID 55TH ANNIVERSARY CELEBRATION
Release Date: May 12, 2023
For the second year in a row, Mason Health is paving a path for future generations to make their mark on health care in Mason County. Nine students from Shelton High School's Health Sciences Academy will receive full-ride higher education scholarships in a designated medical pathway, up from three scholarships awarded last year. The scholarships are part of a landmark partnership with Shelton School District to increase the number of health care workers in Mason County and provide students with a means of continuing their education during tough economic times.
"Mason Health was so impressed with the caliber of young adults who applied for the scholarships," said Mason Health Chief Nursing Officer Melissa Strong. "They all did amazing during the interviews. We increased the number of scholarships available so we could remove barriers for any of our communities of youth to embark on a career path with Mason Health. We hope by removing the financial barriers, they will be able to focus on school and learning what they need to become successful, productive adults that remain in our community."
The future health care workers will be offered a position at Mason Health upon completion of their programs, if a position is open. This year's recipients will either receive training in phlebotomy, begin their schooling or pre-requisites to become a registered nurse, enter in an apprenticeship to become a medical assistant or, new this year, begin training to work as a certified nursing assistant.
"The certified nursing assistant route is new this year to help pave a path for someone to become a registered nurse with extra mentorship, acclimation to the health care field and time," said Nicole Eddins, Mason Health Senior Director of Performance Excellence.
This year's recipients in Phlebotomy include:
Dolores Andres-Gervacio, 18
Anthony Castaneda Martin, 17
Pedro Jimenez, 18
Milo Young, 18
This year's recipients in Registered Nursing include:
Wyatt Anthis, 18
Henry Gomez Cruz, 18
Heaven Smith, 17
This year's recipient in the Medical Assistant program is:
And this year's recipient in the Certified Nursing Assistant program is:
Feona Caxhandra Suson Medina, 17
"For the Shelton School District, really any public school system, this is the way of doing business," said Shelton School District Superintendent Wyeth Jessee. "With partnerships like this with Mason Health, we are able to say, 'What do you need as an employer and how do we adapt the skills we're teaching to make sure our students have the right experiences?'"
The scholarship winners will be celebrated on Wednesday, May 10, at a reception at Mason General Hospital, during "Mason Health Week." Mason Health Week coincides with National Hospital Week and is a chance to celebrate the hard work of Mason Health employees. Mason Health Week events include an employee appreciation BBQ, ice cream giveaways, prize drawings and distribution of an employee gift. This year, Mason Health also celebrates its 55th anniversary with special reflections, including a choral presentation from the Great Bend Center for Music during the scholarship event, the display of former Director of Nursing Services Mae Buffington's historic uniform at the Mason General Hospital Foundation Auxiliary Gift Shop and milestones and fun facts shared on social media.
"Mason Health is proud to have been a part of the Mason County community for 55 years and we look forward to continuing to serve the community in meaningful ways, such as with our scholarship program," said Mason Health Chief Development & Communication Officer Jennifer Capps. "Here's to the next 55 years."
Mason Health, Public Hospital District No. 1 of Mason County, is celebrating 55 years of serving patients and the community this year. Mason Health is ISO 9001 Quality Management System certified by Det Norske Veritas (DNV) and is a licensed and accredited acute care hospital with a level four emergency trauma designation. Mason General Hospital and Mason Clinic are ENERGY STAR® certified and Mason Health is the recipient of Practice Greenhealth Partner for Change Environmental Excellence Awards. There are more than 100 physicians on staff in 19 specialties. For more information or to find a health care provider, visit www.masongeneral.com. To learn more about DNV, visit www.dnv.com/healthcare.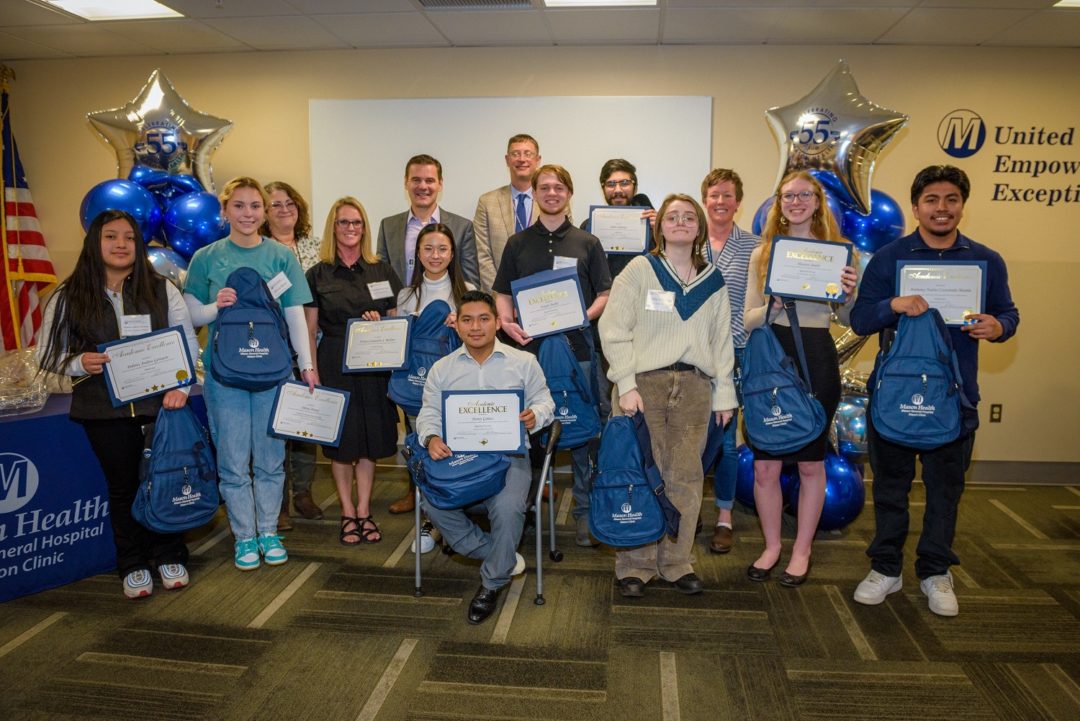 From left: Shelton High School Career Center Specialist Jill Bourgault, Scholarship Recipients Dolores Andres-Gervacio and Olivia Henry, Mason Health Chief Nursing Officer Melissa Strong, Shelton School District Director of Career Connected Learning Gretchen Maliska, Mason Health CEO Eric Moll, Scholarship Recipient Feona Caxhandra Suson Medina, Shelton School District Superintendent Wyeth Jessee (in back), Scholarship Recipients Wyatt Anthis, Henry Gomez Cruz (seated), Pedro Jimenez and Milo Young, Mason Health Senior Director of Performance Excellence Nicole Eddins, Scholarship Recipient Heaven Smith, Mason Health Laboratory Manager Lindsay Roberts, Scholarship Recipient Anthony Castaneda Martin, Mason Health Clinic Supervisor Christina Hoggard and Clinic Manager Kelly North