MASON HEALTH CELEBRATES ENVIRONMENTAL STEWARDSHIP -- PRACTICE GREENHEALTH 2021 ENVIRONMENTAL EXCELLENCE AWARD
Release Date: Mar 23, 2022
SHELTON, WA – Mason Health continues to showcase its commitment to environmental sustainability. On the heels of the District earning an ENERGY STAR certification and with the approach of Earth Day next month, Mason Health's "Green Team" is celebrating its first Environmental Excellence Award from Practice Greenhealth. Practice Greenhealth is the nation's leading organization dedicated to environmental sustainability in health care.
The Practice Greenhealth awards program recognizes health care facilities for their commitment to environmental stewardship and their sustainability achievements.
"The award that Mason Health received in 2021 is the manifestation of a great deal of hard work by a very large team comprised of clinical and non-clinical leaders across the District," said Jennifer Capps, Mason Health's Chief Development and Communication Officer, who led the Green Team of department heads and frontline health care workers formalizing the District's sustainable health care initiatives. "I am honored to work with such a fine group of professionals and their support teams."
The Green Team includes leaders from multiple Mason Health departments: Environmental Services, Supply Chain, Surgical Services, Clinical Informatics, Maintenance, Culinary and Nutrition Services, Finance, Compliance, Human Resources, Pharmacy, Laboratory, Development and Infection Prevention, Employee Health & Safety.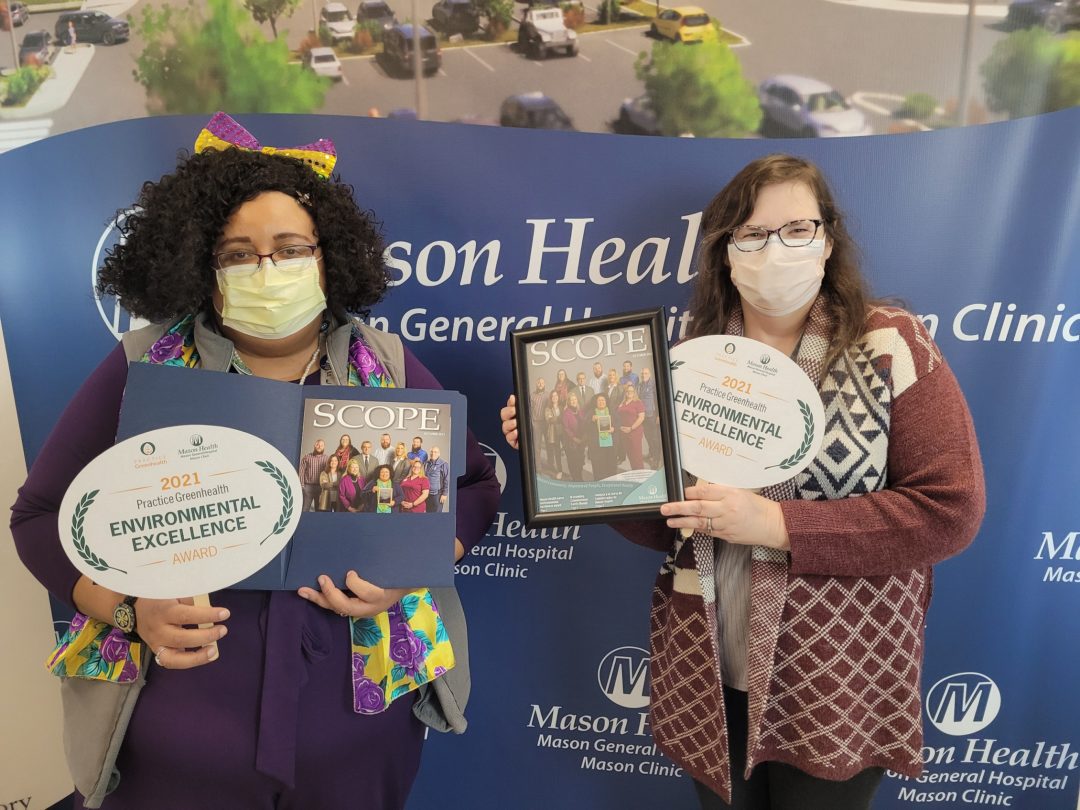 From left, Mason Health Chief Development & Communications Officer Jennifer Capps and Program Manager: Infection Prevention, Employee Health & Safety Kim Cooper celebrate Mason Health's Practice Greenhealth Environmental Excellence Award. Both are members of Mason Health's Green Team at the forefront of sustainability initiatives at the District.
"Health care has a mission to do no harm," said Kaeleigh Sheehan, Sustainability Strategy Manager for Practice Greenhealth. "Health care facilities have the opportunity to serve patients and promote health on a larger scale. (For example), the work Mason Health has done in the area of bringing sustainable, local food to its patients is impressive. It's a very community-focused, community-facing program that offers a holistic approach to health."
Culinary and Nutrition Services, in recent years, switched to biodegradable corn and sugar cane to-go utensils, began a seasonal collaboration with local farms in the South Sound Fresh food hub and swapped all paper products with non-bleached biodegradable items. Partnerships with local groups like the St. Andrew's House Retreat Center in Union and Skokomish Ridge Mushroom Growers' Cooperative have also brought locally produced granola and organic mushrooms to patients' menus.
Now, when seasonally appropriate, 50 percent of the produce served at Mason General Hospital (including all the produce for the salad bar) comes from local farms, while 30 percent of the meat and 20 percent of the dairy is sourced locally as well.
"Supporting local agriculture and reinvesting back in Mason County is very important to Mason Health," said Cody Shipley, Culinary & Nutrition Services Manager. "We've made large moves these past few years to improve our environmental impact. Working in collaboration with local farms, we are building a stronger food system for Mason County."
In addition to Mason Health's achievements in Culinary and Nutrition Services, the District is also involved in a statewide medication disposal program, with drug takeback boxes located at Mason General Hospital for patient's convenience, and is an active member of Stryker's Sustainability Solutions program to reprocess and remanufacture single-use medical devices.
Mason Health's Maintenance Department also pursued and received ENERGY STAR certification for Mason General Hospital and Mason Clinic.
ENERGY STAR certified buildings save energy, save money and help protect the environment by generating fewer greenhouse gas emissions than typical buildings.
To be certified as ENERGY STAR, a building must meet strict energy performance standards set by the Environmental Protection Agency. Certification is verified annually and by a third party.
"From initial design through the lifecycle of an asset, ongoing maintenance plays a key role in sustainability," said Patrick O'Neil, Director of Facilities Engineering, Mason Health's Maintenance Department. "Maintenance programs are often the focus of environmental policies because maintenance itself is a key part of sustainability, as it improves operations and contributes to longer asset life. A good maintenance strategy improves environmental sustainability by helping to use resources (water, air, energy, materials) more efficiently and reduce atmospheric emissions."
The District's focus on sustainable health care practices aligns strongly with its mission of United Community, Empowered People, Exceptional Health.
Mason Health joined Practice Greenhealth in 2020. Today, 1 in every 3 hospitals is part of Practice Greenhealth's network. Mason Health was the first of the Washington Rural Health Collaborative to join Practice Greenhealth. The health care sector has an enormous impact on the environment — from producing 5.2 billion tons of waste annually and consuming more than 8 percent of the nation's energy.
"We are strongly committed to sustainable health care," said Mason Health CEO Eric Moll. "By joining Practice Greenhealth, we strengthened our position as a socially responsible organization creating a healthy environment for patients, staff and community."
To learn more about Practice Greenhealth, visit www.practicegreenhealth.org.
Mason Health, Public Hospital District No. 1 of Mason County, is certified by Det Norske Veritas (DNV) and is a licensed and accredited acute care hospital with a level four emergency trauma designation. There are more than 100 physicians on staff in 19 specialties. For more information or to find a health care provider, visit www.MasonGeneral.com.
##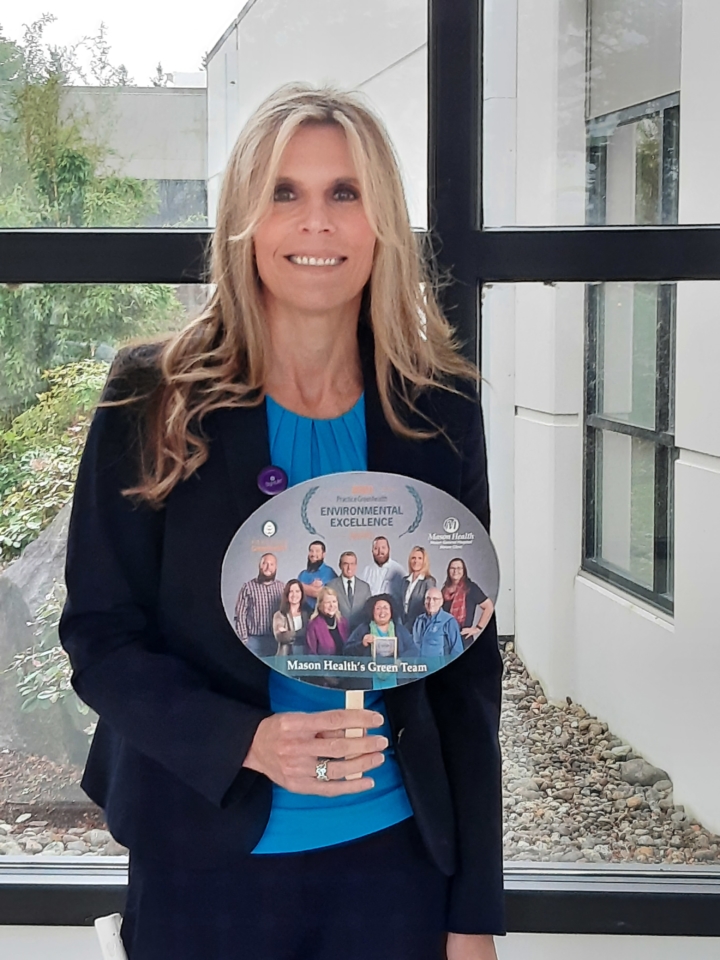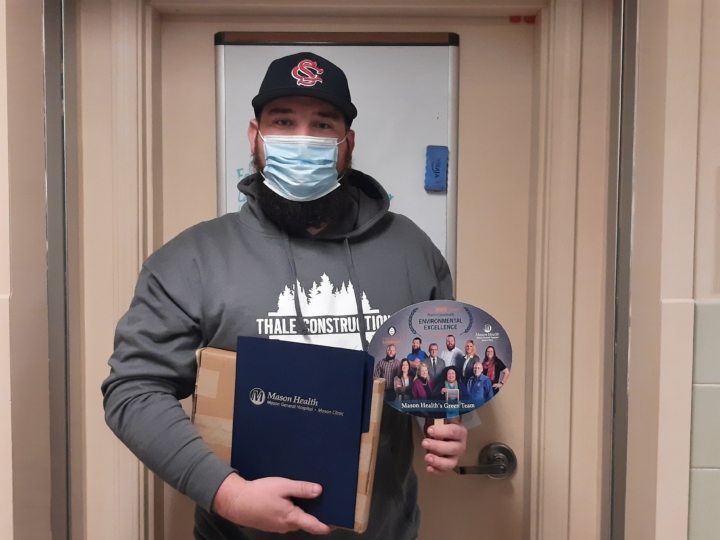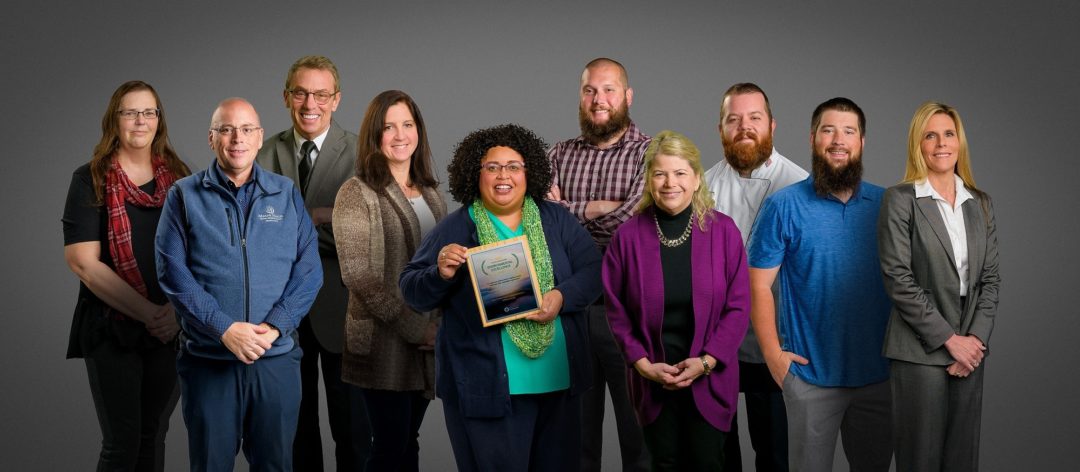 Composite Photo by Cooper Studios | Mason Health's Green Team, from left: Kim Cooper, Program Manager: Infection Prevention, Employee Health & Safety; Patrick O'Neil, Director of Facilities Engineering; Kevin Keller, Senior Director of Human Resources; Stephanie Gunter, PharmD, Pharmacy Manager; Jennifer Capps, Chief Development & Communications Officer; Brandon Amundson, Laboratory Manager; Laura Grubb, Compliance Officer; Cody Shipley, Culinary & Nutrition Services Manager; Trevor Madison, Environmental Services Manager; and Lori Genson, Intraoperative Services Manager. Not pictured: Jon Hornburg, Senior Accountant, and Won Lee, Database Administrative Analyst.