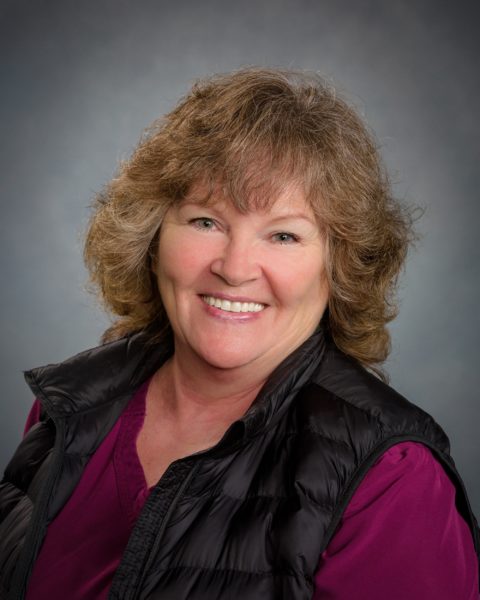 Ragsdale moved to Shelton in 1975 and attended Shelton High School. She married her high school sweetheart, a millworker at Skookum Lumber for more than 25 years. They have been married 42 years and they raised their three children in Shelton. For 27 years, she worked in housekeeping at Pioneer School District, though she had originally dreamed of working at Mason Health.
"Years ago, when I first decided to work, I came in to apply for a job at Mason General Hospital," she said. "I happened to get a job at Pioneer first, and for a long time, it was a wonderful experience. I loved being around the kids. When it was time to leave, I considered Mason Health again, but I thought, 'Who would hire me at my age?' Mason Health interviewed me and offered me the job the same day. I love it here so much."
Ragsdale has been with Mason Health since 2020, having started right at the beginning of the COVID-19 pandemic. Learning a new job during a pandemic was relatively easy, she said, because she learned new protocols right from the start.
Ragsdale likes to hold multiple jobs: In addition to her work at Pioneer, she waitressed, provided caregiving to adults with disabilities through Exceptional Foresters Inc., owned a local business with her husband for a few years, and served as a volunteer firefighter for District No. 5.
Her time at Mason Health has been no different. After a year in the EVS Department, Ragsdale started to pick up shifts as a Patient Safety Companion. Now, several times a month, she visits with patients and provides them comfort and support.
"The reason I wanted to get into the hospital setting was so I could give myself to patients," Ragsdale said. "I've sat and sang with patients before and after my shift. I love the fact that I get to help people. I've helped to prevent two suicides and went on to help a patient later with their hospice care. It's very rewarding."
Ragsdale was the March 2022 Employee of the Month.